I saw a promo for the Oscars next Sunday and it got me thinking about movies that have moved me for various reasons, so I thought I would share a few, in no particular order. These are ones a little out of the mainstream; all are worth chasing down at your local video store.



Bottle Rocket (1996)

This is, I think, the first collaboration between Wes Anderson and Luke and Owen Wilson. Owen plays Dignan, a guy who has a seventy-five year plan for how to be a successful criminal, which he describes well. The comedy is off the wall and you have to watch it more than once to make the most of the side comments.

Miss Firecracker (1989)

I've mentioned this movie before. Holly Hunter plays a young woman determined to win the Miss Firecracker Pageant in Yazoo City, Mississippi. What unfolds is a deeply resonant story of family, dreams, failure, and grace.


Cry, the Beloved Country (1995)

To say I love this movie is to say a great deal because the novel from which it is adapted is one of my favorite stories and Stephen Kumalo, the man at the heart of the story is one of the great characters in literature. This movie was the first independent movie produced in post-apartheid South Africa and is worth seeing again and again and again (after you read the book over and over).

The Elephant Man (1980)

David Lynch's movie is based on the life of John Merrick, who was known as the Elephant Man because of his deformities. Anthony Hopkins plays the doctor who befriends him. One of my favorite scenes is Hopkins' questioning his motives in helping the man, because his compassion brought him some fame.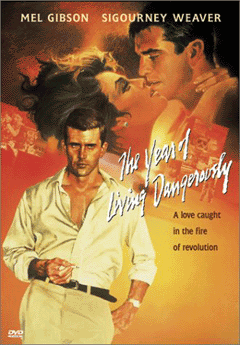 The Year of Living Dangerously (1982)

Peter Weir directed Mel Gibson in two of his best movies: Gallipoli and this one. The movie is set in Indonesia during the political turmoil of the 1960's. The key character is Billy Kwan, played by Linda Hunt (a role for which she won an Oscar). This movie works on lots of levels.

The Killing Fields (1984)

Before there was Law & Order, Sam Waterson played Sidney Schaunberg, who was a reporter for the New York Times during the Cambodian War and won a Pulitzer Prize for his stories. Dith Pran was the Cambodian who helped him. When the Americans evacuated, Pran and the other Cambodians who had helped them were left at the mercy of Pol Pot, who was out to kill pretty much everyone who disagreed with him. This is an amazing story of our human capacity to both endure and forgive.

The In-Laws (1979)

Yes, I said these were movies to watch more than once. I suppose I should also say you have to give yourself some time to recoup between viewings. I will close my list with one you can watch as many times as you want. This is one of the funniest movies ever. (The remake a couple years back sucked, by the way). Peter Falk is a former CIA guy who is pretty much of a loose cannon and Alan Arkin is a Manhattan dentist who has never colored outside the lines. They are great together.

There are more where those came from. I would love to hear the movies that matter to you.

Peace,
Milton